Striking Growth in Sales of AI Domain Names
According to data from SEDO, there is a clear upward trend in the sales of .ai domain names. This prompted us to delve deeper into what AI is.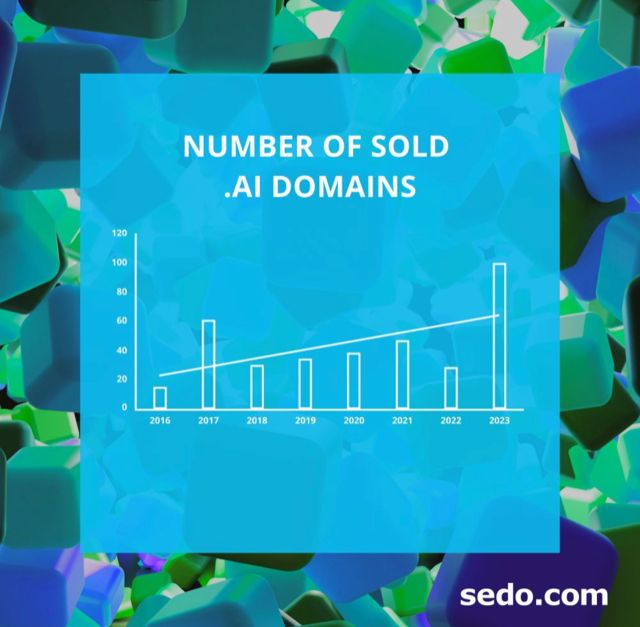 The Meaning of AI
AI is the abbreviation for artificial intelligence, literally translated as "kunstmatige intelligentie" in Dutch. AI is a collective term for applications that perform complex tasks that were previously carried out by humans. For example, think of a chatbot for the initial online interaction between a customer and a company.
Rise of .ai Domain Name
Domain names with the extension .ai have been available for quite some time. This extension is the ccTLD of Anguilla, an island that is part of the Lesser Antilles. Since 2023, there has been a strong growth in the registration and sale of existing .ai domain names. The rise of ChatGPT seems to be the driving force behind this trend. Due to the popularity of AI, many individuals and businesses see opportunities in this domain. It can be compared to the rise of .tv, the extension that gained significant popularity a few years ago.
Origin of AI
The term "artificial intelligence" was coined in 1950 by John McCarthy, an American computer scientist. During those years, the development of computers made significant advancements. Computers, when combined with software, could execute increasingly complex tasks, laying the foundation for AI.
The Benefit of AI
To get straight to the point, artificial intelligence will continue to profoundly influence society. AI can process large amounts of data relatively quickly and perform tasks efficiently. Currently, companies are using AI, alongside chatbots, mainly to optimize predictions, enabling faster and better decision-making. However, this is just the beginning. Mehdi Dastani, a professor of Artificial Intelligence at Utrecht University, stated about AI development: "It is a 'system technology,' comparable to electricity or the steam engine, which affects how we organize our world: the job market, our behavior, and our ways of thinking." (source: read the full article here).
The Flipside of AI
Of course, there are drawbacks to this development. Cybercriminals are delighted with the array of available tools at their disposal. It has become easier to deceive people. Spam messages are becoming more "sophisticated" (realistic), and AI makes it simple to write software that can hack into government and agency websites, among other things. Continuous focus on awareness among employees is, therefore, a crucial point of concern for businesses, and of course, for consumers like you and me.
A ChatGPT Fun Fact
The (free) use of ChatGPT provides valuable data for its further development and improvement. All our inputs, such as the questions we ask ChatGPT, help developers enhance the tool. It's similar to selecting images in reCAPTCHA, which assists Google in image recognition. Together, we provide free data for the development of tools that we'll eventually use and pay for. A very clever business model indeed.
A Glimpse into the Future
Lastly, at Dovendi, we are curious about the figures a year from now. How will the renewals, new registrations, and the buying and selling of existing domain names unfold? It's expected to follow a similar pattern as the previously mentioned .tv extension and TLDs like .shop; some are highly successful, while many others lead a relatively anonymous existence. But will this be different for .ai? It's a great question to present to ChatGPT...